Nutritional Facts About Almonds
You may think of them as just a tasty snack, but almonds are also a powerful weapon in your battle for better health. Packed with vitamins, minerals, and fiber, almonds are an easy, delicious way to get the nutrients you need, every day. And don't forget, they're naturally cholesterol-free.
We're not the only ones who are catching on to almonds. Is seems like every day we're reading about a new research study that reveals even more good news about almonds. From heart disease to cancer, almonds are fighting for your good health!
Below you'll find links to everything you ever wanted to know about what almonds can do. Here's your chance to become the almond expert in your family!
Almond Nutrients
From folic acid to fiber, almonds are your personal nutritional powerhouses. Check out our interactive demonstration, Anatomy of the Almond, get a complete nutrition composition and learn all about the Facts on Fat.
Almonds' Role in Heart Disease Prevention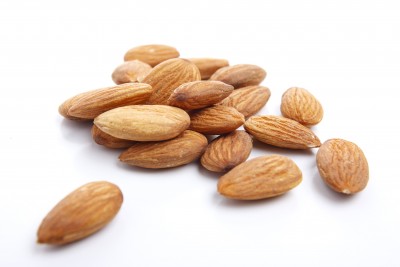 It's amazing but true, just a few almonds go a long way towards healthy levels of blood pressure and cholesterol. Learn what your risks are for heart disease and how almonds help keep your heart healthy.
Almonds' Role in Cancer Prevention
The latest research shows that almonds may play a leading role in preventing colon and lung cancer.
Nutrition Research Uncovers Almonds' Health Benefits
How do we know so much about almonds? Several large-population studies have revealed that almonds lower risk factors for heart disease. Read the document that summarizes all of our almond-specific nutrition research to-date and learn about the research the Almond Board of California is currently conducting.
About Almonds
Historians generally agree that almonds and dates, both mentioned in the Old...Read More



Member of the California Almond Board


Company
Waterford Nut Company
519 Timmie Lane Waterford, CA 95386
209-874-2317
Fax :: 209-874-3494